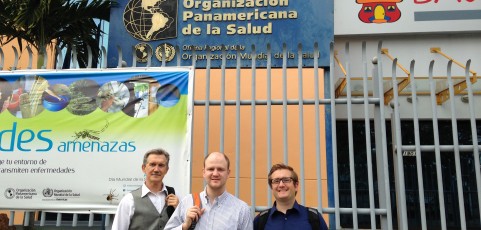 International training is an essential part of a broad spectrum family medicine residency, and thanks to Dr. Starr and the FMed Fund, I was able to partake in a week long international elective in Honduras.  The initial plan was to assist Dr. Starr and other Honduran Plastic Surgeons in performing cleft palate surgery on children.  This plan then changed when I was made aware of a desire on the part of some very prominent physicians and administrators in the University Hospital in Tegucigalpa to form a Family Medicine training program.
As a soon-to-be Family Medicine graduate, I was asked to present the basics of family medicine, its benefits to health systems, and ways that the training was carried out at the VCMC Family Medicine Residency Program.  Included in this time was discussion with current internal medicine, surgery, and OB/Gyn residents in Honduras, as well as tours of their hospital and medical school.
I was taken aback at the level of representation at the meetings, including the Pan American Health Organization, the Ministry of Health, and leadership in the department of Public Health.  I was able to use the experience I gained as Chief Resident, specifically working with the ACGME guidelines and the leadership of our residency program, to advocate for the essential role of Family Medicine in Primary Care.  I am excited to maintain and grow the relationship the VCMC Family Medicine Residency has with the Hospital Escuela in Tegucigalpa.