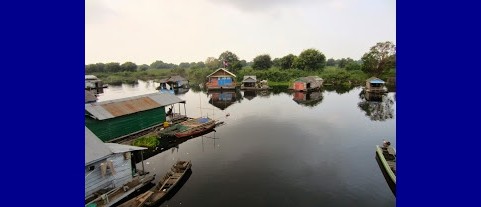 The Lake Clinic was started in 2008 by Jon Morgan, an American nurse with an MPH who had been the director of the Angkor Hospital for Children in Siem Reap, Cambodia for many years. The goal of The Lake Clinic is to provide healthcare to rural communities on the Tonle Sap lake. This is one of the largest lakes in SE Asia and provides one third of the protein for the people of Cambodia in the form of fish. More than 1.5 million people live on or around the lake, some in unique floating villages that drift with the rise and fall of the waters.
For the past six years, TLC has been taking medical teams by boat to eight of these villages to provide healthcare. The full-time Cambodian team consists of a doctor, dentist, midwife, registrar, cook, boat driver and clinic coordinator. Volunteer doctors are extra. They spend three days on the lake running a walk-in clinic and try to visit each village about once a month. I had the privilege of going on two trips to the lake as well as one trip to the Stung Sen river where TLC has a second team that goes every week to a remote village.
Clinic starts Monday morning just before dawn when the whole team meets at the office in Siem Reap and piles into a van with all of our gear. We drive out to the lake and then take a boat to the village. The trip takes about 4 hours, a difficult and cost-prohibitive journey for most locals. Once at the clinic (a 20×20 room built by TLC with a bathroom out back), we have lunch and then unpack. There are boxes of charts, carefully filed with histories going back more than 5 years. The dentist sets up her equipment. We lay out the pharmacy and hang curtains to create "rooms" to see patients. Clinic runs for a half day on Monday, then a full day Tuesday and another half day on Wednesday before we head back to town. We can see as few as 30 patients in a day or as many as 200 depending on the size  and needs of the village.
The staff have been coming here for six years and know the patients well. There are a lot of musculoskeletal complaints as the people spend all day hunched over fishing nets in tiny boats. I saw the usual colds as well as diarrhea, likely related to poor water quality. TLC has worked hard to educate people about water safety and has even set up water filters in some villages, but it's difficult to get people to use them and change age-old habits. Most of the kids have horrible dental disease, even as young as two years old, and the dentist stays busy doing extractions and fillings. The midwife provides prenatal care and advises women to go to the hospital for delivery, although most will deliver in their home with a local midwife due to the long journey into town. Interestingly, the government has mandated that all women deliver in a hospital with a doctor and midwives can be fined for doing deliveries. Because of the political culture it is basically illegal to provide training to rural midwives leading to persistently high maternal-infant mortality in rural areas.
On some of the slower afternoons I had the opportunity to do home visits. We saw an 80 year old woman with end-stage dementia, a 60 year old man paralyzed by polio, another 80 year old man who'd had a stroke. One afternoon we even got to visit one of the smaller villages to follow up with two patients who had recently had cataract surgery. When they can, TLC transports the locals back to town to see specialists or have surgeries. However, resources are still very limited. I saw an 8 year old girl on the river with congenital heart disease causing her to have very low oxygen levels. She's seen the specialists at the children's hospital and is on the list to have the life-saving surgery she needs, but the list has 2000 other children on it and it's a long wait. In the meantime she's already developed irreversible complications from her disease.
For information about the Lake Clinic http://www.lakeclinic.org
Elizabeth Uno, PGY3