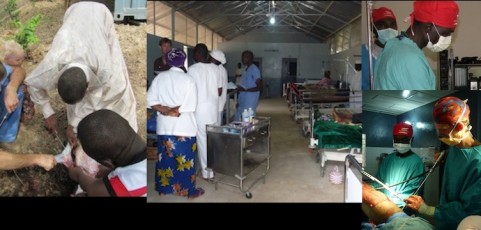 VGHP is partnering with Dr. James Appel, a 2003 graduate of the Ventura Family Medicine Residency, to provide specialist care in Moundou, Chad.
Moundou is the second largest city in Chad with a population of over 500,000 including hinterlands. There are less than 20 doctors in Moundou (compared to 679 doctors in the city of Ventura with a population of 106,000), and most of those are in private for-profit practice serving those few residents who can afford private care.
Moundou Adventist Hospital provides care without regard to political affiliation, religious belief, ethnic identity, or ability to pay. Dr. Appel started the hospital in 2011 after spending eight years at Berea Adventist Hospital in Chad. When Dr. Appel started in Berea, the hospital had not had a doctor for 15 years. Now there are three doctors, and Dr. Appel has moved to the city of Moundou to start his newest venture. Dr. Appel has requested short term rotations of specialists in Ophthalmology, Dentistry, Gynecology, Orthopedics, Plastic Surgery, and Urology.